'A Pazziella

Capri

4 stars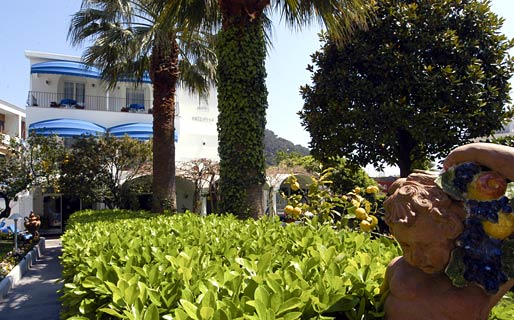 This hotel is no longer part of the
Capri.net collection
Beautiful inside and out
Three reasons why you'll love it here

A peaceful oasis, 200m from the Piazzetta
An elegant aperitif, beneath the lemon trees
A relaxing massage - in the garden!
Looking for a small, centrally located and peaceful 4 star hotel in Capri? With pool, lemon garden and, (why not?) free Wi-Fi too? Sounds just like 'A Pazziella!
More like a private villa than a hotel, 'A Pazziella has just 20 beautifully appointed bedrooms and suites, the majority of which have their own private terrace with views of the sea surrounding Capri or the gardens.
All rooms feature a pleasing combination of traditional vaulted ceilings, floors in hand-painted majolica and 4 star in-room amenities, such as air conditioning, free Wi-Fi and LCD satellite televisions.
Few hotels on the island are able to boast a garden quite as beautiful as that surrounding 'A Pazziella. Brimming with cascades of brightly colored bougainvillea and delicately scented magnolia and lemon trees, 'A Pazziella's garden is an unexpectedly peaceful oasis, right in the very heart of Capri.
At the end of the garden, the large outdoor swimming pool is the perfect place in which to enjoy some fun in the sun. Fancy a bit of professional pampering? At 'A Pazziella, relaxing and Shiatsu massages are performed al fresco, in the shade of the gazebo.
Breakfast on the patio, snacks beneath the lemon trees and dinner at D'Amore! Book half board accommodation at 'A Pazziella and you get to eat dinner at one of the best restaurants on the island: Capri's Ristorante D'Amore, located right next door.
Location
Hotel 'A Pazziella is situated in the historic center of Capri, on the picturesque Via Fuorlovado - street famous for its fashionable shops and restaurants.
A vacation at Hotel 'A Pazziella, property surrounded by a charming garden, is a pleasantly peaceful one. The Piazzetta and the island's main bus terminal, taxi stand and funicular railway are all within easy walking distance.
What travellers said about this hotel
'A Pazziella
Via Fuorlovado, 36 - 80073 Capri (Napoli)
Tel. +39 081 8370044 - Fax +39 081 837 0085