Angelide

Anacapri

Bed & Breakfast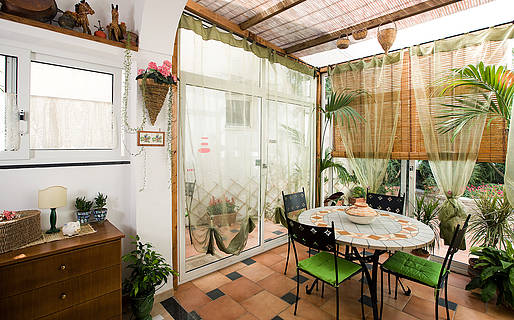 At home, in Anacapri
Three reasons why you'll love it here

Discover Anacapri, the 'other half' of the island
Enjoy the comfort of a home-from-home
Villa Damecuta and the Guardia are on your doorstep!
If it's simple, heartfelt hospitality you're after, Anacapri's Angelide Bed & Breakfast is just the place for you. A charming family-run B&B, set in a small and wonderfully fragrant citrus grove, only meters away from the historic center, Angelide is an authentic home-from-home on the magical Island of Capri.
In each of the bed & breakfast's three bedrooms, guests can expect to find the same pleasing combination of functional modern décor and hotel style comfort. All rooms are equipped with air conditioning, mini bar and private bathroom. Angelide's attractive breakfast room with kitchenette are at guests' disposal for the duration of their stay.
Only steps away from Via Giuseppe Orlandi, the pedestrian lane which winds its way through the historic center of Anacapri, Bed & Breakfast Angelide lies within meters of the town's main bus stop, where guests can board buses to Capri and the port of Marina Grande. Walkers will love the recently restored "Fortini" pathway, which traces the coastline of Anacapri from the lighthouse of Punta Carena all the way to the island's legendary Grotta Azzurra.
Location
Bed & Breakfast Angelide is situated in Anacapri, in one of the Isand of Capri's most characteristic districts.
The B&B lies within easy walking distance of the majority of the town's principal tourist attractions, including the Casa Rossa and the Church of San Michele, the latter famous for its spectacular majolica pavement.
The guest house is located close to Anacapri's main bus stop, from where to catch buses to Capri's Piazzetta, the Bay of Marina Piccola and the beach and harbor of Marina Grande - all of which no more than a 15 minute journey away.
What travellers said about this hotel
Angelide services
Outdoor facilities
Rooms
Internet connection
Free Wi-fi
Air Conditioning
Safety deposit box
Kettle
Satellite TV
Hair dryer
Kitchenette
Room with private terrace
Wellness
Food and drink
Cultivation of organic produce
Own wine production
Own oil production
Booking online
Send an email
This hotel is available for online booking!
Best available rates, updated in realtime.
Reservations managed directly by the hotel.
Book in just 2 minutes.
Possibility to cancel the reservation
Angelide
Via I Traversa Follicara, 19 - 80071 Anacapri (Napoli)
Tel. +39 081 8373729 - Mob. +39 346 9453205

angelide@capri.it