Donna Rachele
Restaurant €€€

Taste
Via Padre Serafino Cimino, 2bis

-

Capri
-
See map
Donna Rachele
+39 081 8375387
+39 081 8375387 (Fax)
+39 333 7575848 (Mobile)
Official website:
Donna Rachele
Good live music
Tasty Sal De Riso desserts
Dine here also during winter and Christmas holidays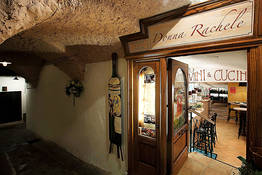 Eat, drink and be merry!
Whether you opt for a leisurely lunch or a romantic dinner accompanied by the sounds of traditional Neapolitan music, use this coupon to receive a special
10% discount
Valid from 1 January 2015 to 31 October 2015
(Terms and conditions)
Slow and fast-food: two apparently contrasting culinary concepts which, at Capri's Donna Rachele wine bar and restaurant, share the very same emphasis on quality. Here, within steps of the Piazzetta, customers can pass an entire evening relaxing over a leisurely meal amongst friends or drop in for a quick snack before heading home after a night on the town, in the knowledge that, be it a full-blown dinner or the merest nibble, everything that comes out of Donna Rachele's kitchen is prepared with the very finest of locally sourced ingredients.
In the restaurant dining room, clients are treated to exciting contemporary versions of traditional local dishes: from Neapolitan sushi to ravioli capresi and breaded anchovies. The wine bar is the ideal choice for those eager to taste one of the 160 excellent labels on the wine list, accompanied by generous platters of Italian cheeses and cold cuts. Customers wishing to dine al fresco should try to grab a place on one of the little balconies overlooking the rooftops of Capri.
Until Loredana inaugurated her wine bar, there was not a single place on the island which stayed open until the early hours of the morning, all year round. No doubt Loredana inherited her entrepreneurial spirit and love of good food and wine from her great grandmother, Donna Rachele. In the late 1800's, Rachele, who owned a little restaurant in Anacapri, became famous for having served none other than the then King of Italy, Umberto II.
Opening times
Lunch: 12.00 pm - 3.00 pm
Dinner: 8.00 pm - 2.00 am

Closure days:
Open 7 days a week, all year round

Donna Rachele: TripAdvisor reviews®
Back to the top

Based on 255 recensioni »
Tourist rip off - avoid!
This place claims to be the island representative of the Slow food movement - it is no such thing! A verry chatty waiter draws you in and than tries to sell you 'fresh fish with pasta'. Only when you... more »
Tourist watch out!
they lure you in with the promise of great food and a terrace, but what you get is the worlds smallest terrace and below average food for above average prices, avoid this place. more »
Wonderful wine. Good atmosphere.
I was in Capri for a night with a friend and we stopped in for a glass of wine after dinner at Quid (the wine bar attached to the restaurant). We had wonderful wine and pleasant service. Be sure to... more »
The Piazzetta, pulsating heart of Capri, lies within steps of Donna Rachele. Clients will take little more than a minute to walk up the steps which, from the piazzetta lead up to the proto-cathedral of Santo Stefano, and reach the arched alleyway where the wine bar is located. Guests dining al fresco on the balconies are treated to a stunning view of the cathedral's bell tower and the center of Capri.