Il Grappolo

Anacapri

Bed & Breakfast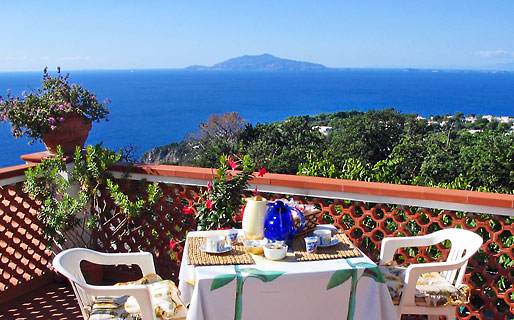 The house amidst the grapevines
Three reasons why you'll love it here

A typical island home amidst the vineyards of Anacapri
The spectacular views of the sea from the terrace
B&B prices - hotel style amenities (including free Wi-Fi)
Il Grappolo Bed & Breakfast takes its name from the vineyard which surrounds the property. Immersed in captivating and peaceful surroundings, from the panoramic terrace guests enjoy spectacular views over the Bay of Naples.
Il Grappolo has 3 double bedrooms each with its own private bathroom and views of the sea. All rooms are equipped with Wi-Fi internet connectivity, air conditioning, television and minibar and open out on to the large terrace, where breakfast is served each morning.
Despite being located in a particularly peaceful area, the Grappolo is only a few minutes away from the historic center of Anacapri and tourist attractions such as the Villa San Michele museum house, and the chairlift to the summit of Monte Solaro, the highest point of Capri. In the immediate vicinity one finds a highly acclaimed restaurant serving local specialties, and a large panoramic swimming pool with snack bar and solarium.
Location
Bed & Breakfast Il Grappolo is located on Anacapri's Migliera pathway and only a few steps away from the spectacular "Belvedere del Tuono" viewing point.
The ideal choice for a peaceful vacation in one of the most panoramic corners of the Island of Capri, Il Grappolo is, nevertheless, a mere ten minute walk away from the historic center of Anacapri and the bus stops from where to catch buses to the beach and lighthouse of Punta Carena, the Piazzetta of Capri and the Grotta Azzurra.
What travellers said about this hotel
Booking online
Send an email
This hotel is available for online booking!
Best available rates, updated in realtime.
Reservations managed directly by the hotel.
Book in just 2 minutes.
Possibility to cancel the reservation