La Casa di Viola

Capri

Bed & Breakfast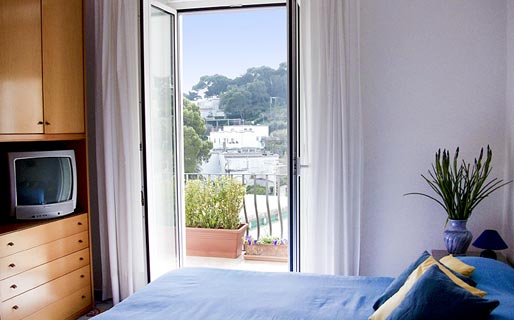 This hotel is no longer part of the
Capri.net collection
Just one room, your room, in a house in the heart of Capri
Three reasons why you'll love it here

A B&B all for you, just a few meters from the Piazzetta
Breakfast and sundowners on your balcony
An unbeatable location, in the historic center of Capri
Small, simple, welcoming: for centuries the houses of Capri have been providing heartfelt hospitality to visitors in search of authentic island charm at an affordable price. Bed and breakfast La Casa di Viola is just such a place.
La Casa di Viola is still very much a family home, in which guests are treated as if they were old friends. B&B accommodation is available in just one, spotlessly clean, light-filled bedroom; tastefully furnished and equipped with hotel standard amenities such as air conditioning, television and wireless internet connectivity.
In the long summer months, breakfast is served on the bedroom balcony, overlooking the garden of oleander trees. This is where guests are likely to be found relaxing, a glass of limoncello in hand, after a day by the sea, exploring Capri's tiny little beaches and sea caves.
Holidaymakers choosing B&B La Casa di Viola can expect to experience a genuine slice of life in the heart of Capri. The Charterhouse of San Giacomo and the Gardens of Augustus, two of the island's major tourist attractions, are located just a few meters away from the guest house, as is the buzzing Piazzetta, the designer shopping district, and all of Capri's most fashionable restaurants, bars and discotheques.
Location
In one of the picturesque lanes which winds its way through the historic center of Capri, Bed & Breakfast "La Casa di Viola" is the perfect choice for those wishing to stay right in the heart of the island.
The buzzing Piazzetta is a mere two minute walk away, as are the main taxi stand, bus terminal and the funicular railway, which links the center with the port of Marina Grande.
The center of Capri is a traffic free zone and from La Casa di Viola attractions such as the Charterhouse of San Giacomo, the Gardens of Augustus, and the spectacular Via Krupp leading to the bay of Marina Piccola all lie within easy walking distance
La Casa di Viola
Via Posterula, 19 - 80073 Capri (Napoli)
Tel. +39 081 8370963 - Mob. +39 349 5364323