Monte Solaro

Anacapri

Bed & Breakfast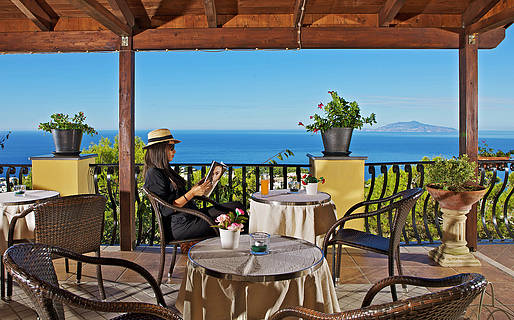 Where the most beautiful view on the island of Capri... is all yours!
Three reasons why you'll love it here

Watch the sun setting over the sea from your terrace
Ten minutes from all of Capri's tourist attractions
Typical island hospitality, in a family-run B&B
The most beautiful view in Capri? If we had to choose just one, it would have to be that which can be seen from the summit of Monte Solaro, in Anacapri. The same view which awaits holidaymakers who choose to stay at this little B&B resting on the slopes of the mountain.
Peaceful, panoramic and, at the same time, close to the center of Anacapri: B&B Montesolaro is just a ten minute walk away from the historic center, Villa San Michele and the Monte Solaro chairlift.
You can catch buses to the Piazzetta, the Grotta Azzurra, the Faro and the port of Marina Grande from Piazza della Pace - just 100 meters away from B&B Montesolaro

After a day spent exploring Capri, make sure you get back to the B&B in time to see the sun setting over the sea from the terrace, a glass of the island's refreshing white wine in hand...
Each of Monte Solaro's bedrooms has its own private balcony and spacious bathroom with shower. Breakfast is served al fresco on the large communal terrace.
Add the free Wi-Fi, available throughout the property, and the warm hospitality of the Pontecorvo family and you've got the island B&B you've been dreaming of!
Location
Piazza Vittoria, the first square to greet tourists arriving in Anacapri, lies just a hundred meters or so from B&B Monte Solaro which, from its position on the slopes of Capri's mountain, enjoys magnificent views out over the historic center of Anacapri and the entire Gulf of Naples, from Sorrento to the island of Ischia.
The chairlift to Monte Solaro, the Church of San Michele and the museum-house of Axel Munthe, are all within easy walking distance.
The Bed & Breakfast is close to the main bus terminal and taxi stands, making travelling to the port of Capri (Marina Grande), the Grotta Azzurra, the Faro (lighthouse), the bay of Marina Piccola and the Piazzetta, extremely straight forward.
What travellers said about this hotel
Monte Solaro services
Rooms
Free Wi-fi
TV
Bathroom with hydromassage bath
Room with private terrace
Various
Shuttle service (airport / city center / beach)
Booking online
Send an email
This hotel is available for online booking!
Best available rates, updated in realtime.
Reservations managed directly by the hotel.
Book in just 2 minutes.
Possibility to cancel the reservation