Senaria

Anacapri

3 stars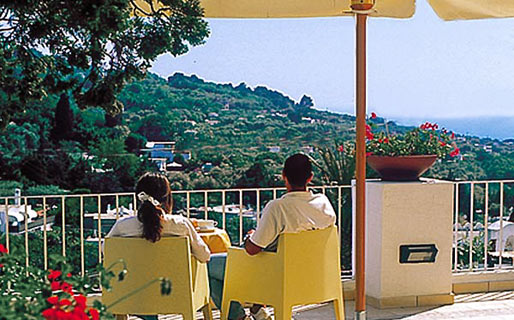 This hotel is no longer part of the
Capri.net collection
Mediterranean boutique
Three reasons why you'll love it here

A sunset aperitif on the sea view terrace
The combination of Mediterranean and modern design
A hotel in which to experience "the other Capri"
There's something very different about Capri's Hotel Senaria. A surprisingly modern hotel on an island known for its love of classic Mediterranean architecture, Anacapri's Hotel Senaria features the kind of essential use of space and no-nonsense interiors you would normally expect to find in much more Northerly climes.
Minimalist elegance under the sun of Capri. Senaria is a boldly modern version of a traditional island home. Located on the sunniest side of Anacapri, the little town which rests at the foot of Monte Solaro, each and every room in the hotel seems to have been sculpted by the light which floods through its large windows and drenches its terraces, from where tantalizing glimpses of the sea can be seen.
Senaria offers excellent value for money, especially when you consider the price of the average 3 star hotel on the island of Capri. Bedrooms are stylishly furnished and equipped with air conditioning, satellite television and mini bar. A number of rooms have their own sea view terrace, others have a small outdoor area where guests can relax in the shade of a characteristic portico.
In the summertime, breakfast is served outdoors on the terrace, the same terrace where, in the late afternoon, after a day spent exploring the island's beaches, guests gather to admire the spectacle of the sun setting over the sea. Two more reasons why to choose Hotel Senaria: the possibility to request half board accommodation, with meals at the popular La Rondinella restaurant, and the special rates granted to hotel guests at Anacapri's Mensana gym.
Location
Hotel Senaria enjoys a great location in the center of Anacapri, within easy walking distance of the town's main bus terminal, where you can catch buses to Capri, the port of Marina Grande, the Grotta Azzurra and the lighthouse at Punta Carena, this latter one of the most beautiful of the island's beaches.
The historic center of Anacapri, where the Villa San Michele Museum, the Church of San Michele, and the chairlift to the summit of Mount Solaro are located, is just a five minute walk away.
What travellers said about this hotel