Stella Maris

Capri

1 star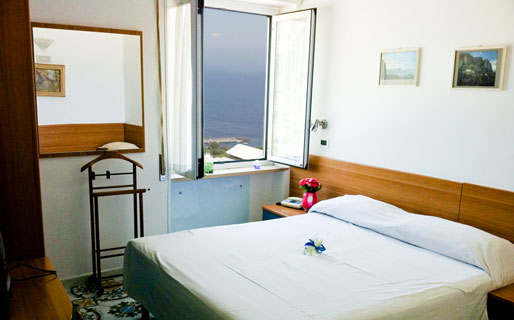 A small, central and economic hotel on Capri? Stella Maris!
Three reasons why you'll love it here

50m from the Piazzetta: you couldn't get more central!
A room with view of the sea: treat yourself!
One of the few hotels on Capri open all year
If the center of Capri is the island's celebrity-packed Piazzetta, then there's no hotel more central than Stella Maris. Small, friendly and affordable, this little hotel is the ideal choice for both a one night stopover or a weeklong summer holiday, slap-bang in the heart of Capri.
Basic at its best: Hotel Stella Maris' bedrooms are clean, comfortable and equipped with air conditioning, television and minibar. If you're lucky, you'll get one of the bedrooms with a balcony, from where a tantalizing glimpse of the sea can be seen.
When you stay at Hotel Stella Maris, all of Capri's most-loved attractions are right on your doorstep! The Piazzetta, the Charterhouse of San Giacomo, the Gardens of Augustus and Via Krupp are all within easy walking distance. To reach Anacapri or the island's beaches, all you need to do is hop onto one of the local buses of jump into one of Capri's legendary open top taxis, stationed opposite the hotel.
Unlike the majority of hotels on the island of Capri, Stella Maris is open all year round: great news if you're planning an out-of-season vacation or a winter business trip.
Location
No more than 50 meters lie between Hotel Stella Maris and the Piazzetta, the pulsating heart of Capri's glamorous social life.
Quickly reached from the port, via funicular train, taxi or bus, the hotel lies just a few steps away from the main taxi stand and bus station and within easy walking distance of the island's fashionable designer shopping district, the Gardens of Augustus, the Charterhouse of San Giacomo and the spectacular Via Krupp.
What travellers said about this hotel
Booking online
Send an email
This hotel is available for online booking!
Best available rates, updated in realtime.
Reservations managed directly by the hotel.
Book in just 2 minutes.
Possibility to cancel the reservation