Villa La Conchiglia

Capri

House rental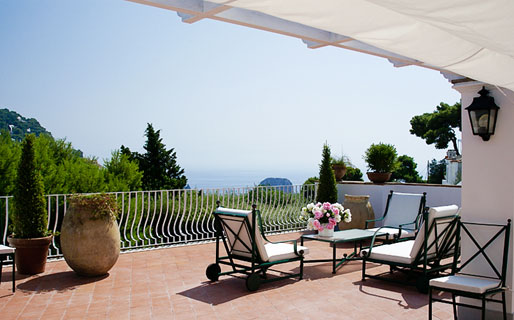 This hotel is no longer part of the
Capri.net collection
A villa, a pool and a terrace with view of the Faraglioni: luxury - Capri style!
Three reasons why you'll love it here

The Faraglioni seen from a terrace in the center of Capri
A villa with garden and pool, within steps of the Piazzetta
Open air living area with barbecue: let the party begin!
On the island of Capri there are any number of beautiful private homes, set in gorgeous gardens complete with classical colonnades, sweeping terraces and, perhaps, even a swimming pool. But only a few can boast having a view of the Faraglioni too - and Villa La Conchiglia is one of them!
Your luxury villa, in the heart of Capri
Within steps of the Piazzetta, La Conchiglia is the perfect choice is you're looking for an exclusive and, at the same time, centrally located villa in Capri.
Where dream holidays come true
Looking for a location for that once-in-a-lifetime vacation with the family or a special group of friends? Villa La Conchiglia has 3 double bedrooms and 2 suites with sitting room and sofa bed. All rooms have their own bathroom. Bed and bath linen are changed every two days.
The villa's large kitchen is equipped with everything you might need for a full-blown family feast.
Personal chef, gala dinner, massages: luxury on demand, at Villa La Conchiglia

Beautiful inside and out
If you think Villa La Conchiglia's interiors are beautiful, just wait 'til you see the garden! With its outdoor living and dining room, barbecue, pizza oven, swimming pool and solarium, the villa's garden is the perfect place in which to while away the day.
The ultimate in luxury, Villa la Conchiglia is available for exclusive let only'''

And the Faraglioni? You can enjoy an unforgettable view of Capri's legendary sea stacks from the villa's panoramic terrace.
Location
Valentino, as the islanders call it, is considered to be one of Capri's most exclusive residential areas. It's here, just behind the Piazzetta, that some of the island's most beautiful homes can be found, homes like Villa La Conchiglia.
You're in the heart of Capri, within easy walking distance of all of the town's tourist attractions and the bus terminal, taxi stand and the funicular railway which links the Piazzetta with the port of Marina Grande.
Villa La Conchiglia
Via Dalmazio Birago, 23 Nr 1 - 80073 Capri (Napoli)
Tel. +39 081 7640666 - Fax +39 081 7648580