Villa Laura

Capri

Luxury Villas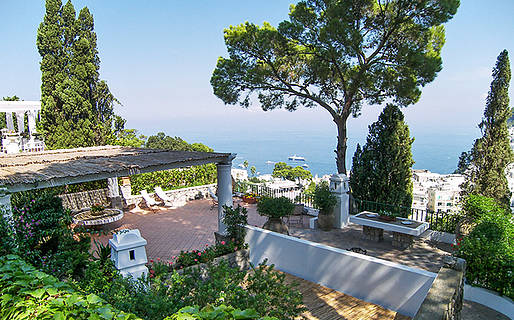 When paradise lies within minutes of the Piazzetta
Three reasons why you'll love it here

A luxurious and panoramic villa, within minutes of Capri's Piazzetta
Barbecue and pizza oven: at Villa Laura great evenings are guaranteed
The views of Capri, Villa Jovis and the Bay of Naples
What better way to experience Capri, than to take a holiday in one of the island's beautiful private homes? A private home like Villa Laura, situated within minutes of Capri's glamorous Piazzetta and surrounded by some of the most spectacular scenery in the world.
The colors of Capri
The villa has four bedrooms decorated in typical Capri-style and a large sitting room paved with exquisite, hand-painted majolica.
Do you like the look of Villa Laura? Take a peek at the other beautiful villas in Capri Villas collection of exclusive holiday homes located in all of the most panoramic corners of Capri and Anacapri...

Peek viewing
The sea, the center of Capri, Monte Tiberio, and what remains of Emperor Tiberius' magnificent Villa Jovis: the view from Villa Laura's terrace is one you're unlikely to forget in a hurry.
Location
Just minutes away from Via Krupp and the Piazzetta, Villa Laura is located on the hill of Castiglione and within easy walking distance of all of Capri's major tourist attractions.
Villa Laura services
Outdoor facilities
Rooms
Air Conditioning
Satellite TV
Hair dryer
Kitchenette
Bathroom with bathtub
Events
Other services
1 housekeeper
5 hours cleaning per day
Final cleaning after check-out
Garden maintenance
Continental breakfast served daily
Concierge service on arrival and departure
Booking online
Send an email
Sorry,
this hotel is not available
for online booking.
The request will be sent by email to "Villa Laura"
Send your request to the hotel
The request will be sent by email to "Villa Laura"