Villa Mediterranea
5 Star Hotels
Via Croce, 15

-

Capri
-
See map
Villa Mediterranea
+39 081 8379620
+39 081 8374742 (Fax)
Official website:
Three reasons to book here:
Stay in a chic design suite
Live just a few steps from the Piazzetta
Savor the view over Capri from an island villa
Special Offers and Packages
Package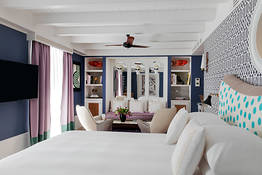 For all 3 nights reservations, from April 13th until May 12 nd 2017, 1 night will be free. Conditions: on confirmation time, the hotel will charge the credit card given with the first night stay amount as not refundable deposit.
€ 166
(per night per room)
Valid from 13 April 2017 to 12 May 2017
Charm and elegance just steps from the Piazzetta in Capri? Choose Villa Mediterranea, a 5 star suite hotel with an island atmosphere and contemporary style.
Ten Luxury Options on Capri
Villa Mediterranea is an exclusive accommodation, offering just a few impeccable guest rooms: just 10 suites, 10 jewels of comfort and design that blend contemporary interiors and modern services - including air conditioning, wifi, satellite tv, and a minibar with complementary soft drinks - for a completely relaxing stay surrounded flawless style!
That's not all! some of the 10 select suites in Villa Mediterranea offer breathtaking views over Capri and the bay below!
Add a special touch to your holiday by booking a suite with a private terrace and savor hours of relaxation in total privacy overlooking Capri!

VIP Location
In addition to its luxurious interiors, Villa Mediterranea boasts a location that few hotels on Capri can match: both central - just a few meters from the Piazzetta - and panoramic, thanks to its stunning view over the city and southern bay of the island.
Simply perfect for your vacation on Capri!
Rooms

Rooms for families
Free Wi-fi
Air Conditioning
Minibar
Satellite TV
Room with private terrace
Central, panoramic, quiet: Villa Mediterranea is everything you are looking for on vacation, with just 5 minutes between the chic bustle of the Piazzetta in Capri and the silence of your suite.
From its lofty position, Villa Mediterranea is also one of the few panoramic hotels overlooking the center of Capri.
98