Villa Silia

Capri

House rental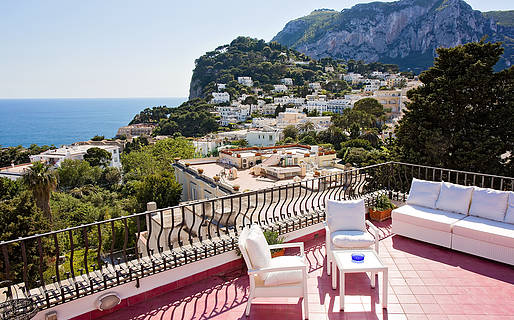 Your dream villa in the heart of Capri
Three reasons why you'll love it here

A villa within step of the Piazzetta
An apartment with roof top terrace
Transfers and trips by motorboat: luxury, Silia style
A villa in the historic center of Capri with large terraces with views of the sea: what better location for a dream holiday on the Island of Capri? Add the typical Mediterranean charm of Capri's traditional homes and levels of comfort comparable to those offered by the finest of the island's hotels and it's easy to understand why those who discover Villa Silia, never want to leave.
A large marble stairway leads to Villa Silia's three apartments: Silia, Nino and Alba. Spacious and filled with light, the apartments have all the elements which are typical of Capri's centuries-old architectural tradition: graceful arches, high, vaulted ceilings, ornate stucco work and floors tiled in exquisite, hand painted majolica made by the master ceramicists of Vietri sul Mare.
Each apartment has its own particular signature features. "Silia", on the top floor, has a Roof Garden (with barbecue), from where a magnificent view out over the center of Capri and the sea can be seen. "Alba" has an open fireplace, a kitchen with wood burning oven, and a small garden. "Nino" has an additional bedroom, making it especially suitable for a family traveling with a baby minder. All apartments have two double bedrooms and can sleep from 4 to 6 guests. On request, the entire villa is available for single let. The apartments, each of which has independent access, have been designed to 'interconnec, when required.
Villa Silia has some of the most splendid, sea view terraces imaginable. The terraces are both open air dining rooms and panoramic sun decks. Here guests can breakfast, organize leisurely al fresco lunches and dinners, or simply relax in the Mediterranean sun.
Although not a hotel, Villa Silia provides an impressive range of concierge services. At any time before or during their stay, guests can request private transfers, guided tours, reservations in the island's highly acclaimed restaurants and spas and unforgettable excursions by luxury motor boat around the island and along the Amalfi Coast.
Location
Two minutes: the time it takes to reach Capri's Piazzetta from Villa Silia. The Gardens of Augustus, the Charterhouse of San Giacomo and the spectacular Via Krupp are, likewise, all situated within easy strolling distance of Villa Silia, as is the island's glamorous designer shopping district.
The nearby Piazzetta is the focus of Capri's fashionable social whirl and it is here that taxis and buses wait to take passengers to Anacapri and the island's beaches. Right next to the Piazzetta, Capri's funicular railway train takes visitors to the port of Marina Grande in just 3 minutes.
Booking online
Send an email
This hotel is available for online booking!
Best available rates, updated in realtime.
Reservations managed directly by the hotel.
Book in just 2 minutes.
Possibility to cancel the reservation