Capri

The longer you stay, the more you save
Long Stay promotions: yet another reason to stay that little bit longer on the Island of Capri
Limiting the length of your vacation is not always the best way to save money! This section is designed for those holidaymakers thinking of staying more than 4 nights on Capri.
A significant number of the island's hotels now offer Long Stay promotions which combine a reduced daily room rate with a number of additional services, all free of charge: from boat trips to romantic dinners, spa paths and beauty treatments. The perfect opportunity to experience the best of Capri, for longer.
Next 30 days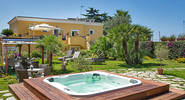 ...start a new life togheter from the island of love..... services included in the promotion: -FREE TRANSFER FROM THE CAPRI PORT TO THE HOTEL -fresh flowers in the room on arrival -BOTTLE OF CHAMPAGNE IN THE ROOM ON ARRIVAL -one lunch by our panoramic pool at Gelsomina place -... (details)
Valid from 6 Apr 2015 to 1 Jun 2015
from € 200.00 (per night per room)
offer 6 nigths 400EUR
Valid from 8 Apr 2015 to 28 May 2015
from € 77.00 (per night per room)
Last 3 available!