Capri

From traditional charm to contemporary chic
Experience the effortless Mediterranean elegance and exclusivity of the Island of Capri's luxury hotels.
Even before Tiberius elected the island as his preferred retreat, in circa 27 A.D, Capri, with its stunning seascapes, marvelous mild climate and beautiful island flora, was bound to become one of the world's most desirable holiday destinations. However the tourist boom only really started in the 1800's, when the people of Capri began to offer hospitality to numerous aristocrats, artists, writers and celebrities of international renown. From that time of the European Grand Tour onwards the island's hotel industry has never looked back.
Today Capri's luxury hotels continue to represent the epitome of Mediterranean glamour; its 5 star establishments offering a fabulous combination of traditional hospitality and contemporary luxury. In this section, you will find an introduction to all of the island's most exclusive hotels and the world class facilities they offer: award-winning gourmet restaurants, state-of-the-art spas, dream swimming pools and, of course, the highest quality service.
Your chance to experience the magic of Capri! Book now.
5 Star Luxury Hotels
From the stunning terraces and balconies of Capri's Hotel Punta Tragara, guests are treated to one of...
Booking online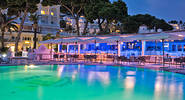 Quisisana. The very name conjures up images of all that is elegant and luxurious about the Capri, island...
Booking online
Your chance to experience the magic of Capri! Book now.