J.K. Place Capri

Capri

5 stars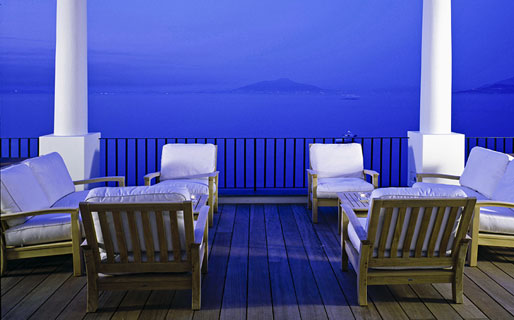 Boutique by the beach
Three reasons why you'll love it here

Contemporary design, lasting luxury: in Capri
Wellness in your room and in the JKSpa
Delicious all-day dining in the JKitchen
J.K. Place Capri is one of surprisingly few hotels on the island of Capri to be able to boast a true sea-edge location. This award winning five star hotel is, in fact, just steps away from the port of Marina Grande and Capri's largest beach.
The hotel, the stylish interiors of which were designed by the Florentine architect, Michele Bonan, has a total of 22 spacious bedrooms and suites in which to find classic seaside combinations of navy blue and white but also soft pastels and patterned wallcoverings, canopied beds, marble fireplaces, black and white art prints and super sleek flat screen televisions. All rooms look out over the sea or the gardens of the hotel. Junior suites also have a small sea-view balcony, whilst J.K. Place Capri's luxurious Penthouse accommodation includes a large panoramic terrace.
The atmosphere which pervades J.K. Place Capri is a pleasantly relaxed one. The service is, needless to say, flawless, and all requests are attended to swiftly and efficiently. Excellent Mediterranean cuisine is served at the hotel's JKitchen intimate restaurant which spills out on to a breathtakingly panoramic terrace. Not only does the restaurant serve fabulous food, it serves it all day long.
Leisure facilities at the hotel include a fitness center and a wellness area in which to enjoy massages, face and body treatments with JKSPA products. The gardens of the hotel provide the idyllic setting for the J.K.Place's large heated swimming pool.
Location
Hotel J.K. Place Capri is situated on the island of Capri overlooking the beach of Marina Grande. The port is just steps away from the hotel. The characteristic funicular railway transports visitors from Marina Grande to the Piazzetta, pulsating heart of the island, in just 3 minutes.
What travellers said about this hotel
J.K. Place Capri services
Outdoor facilities
Wellness
Treatments
Massages
Sauna / Turkish bath
Food and drink
Restaurant
Cocktail bar
Snack bar
Various
Reception 24h
Car park
Shuttle service (airport / city center / beach)
Booking online
Send an email
This hotel is available for online booking!
Best available rates, updated in realtime.
Reservations managed directly by the hotel.
Book in just 2 minutes.
Possibility to cancel the reservation