La Prora

Capri

3 stars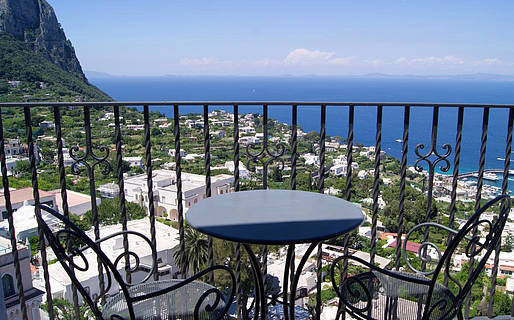 Imagine being on this terrace!
Three reasons why you'll love it here

You're just a few meters away from the Piazzetta
The view of the bay of Naples form your room
Family style hospitality in the heart of Capri
Right at the start of the 20th century, a naval officer decided to build a house on the island of Capri, in a panoramic position overlooking the sea.
This is how La Prora, now a family-run hotel, was born. Situated in the medieval center of Capri, La Prora lies just steps away from the Piazzetta and enjoys splendid views of the Bay of Naplesor the historic center, from each of its windows and sun-kissed terraces.
A hospitality of times past awaits guests staying in this refuge of peace and tranquility. In Hotel La Prora's eight, sea view bedrooms the simple Mediterranean elegance, typical of the island's private homes combines with modern conveniences to provide maximum comfort.
La Prora is the perfect choice for those eager to experience life on the island of Capri. After a generous breakfast, served in the panoramic dining room, guests head off to explore the historic center of Capri, popping in to the little craft shops, artist's studios and delicatessens hidden amidst the maze of medieval lanes.
The bathing establishments of Marina Piccola and Marina Grande, washed by the warm Mediterranean sea are just a short bus ride away.
Location
La Prora is a charming little hotel situated in the historic center of Capri, hidden away amidst the maze of little medieval lanes which develops around the famous Piazzetta.
Thanks to its central position, close to the main bus terminal and taxi stand, from Hotel La Prora guests easily reach all of the island's major tourist attractions including the Charterhouse of San Giacomo, the Gardens of Augustus and the Grotta Azzurra.
What travellers said about this hotel
Booking online
Send an email
This hotel is available for online booking!
Best available rates, updated in realtime.
Reservations managed directly by the hotel.
Book in just 2 minutes.
Possibility to cancel the reservation