Villa Damecuta

Anacapri

Bed & Breakfast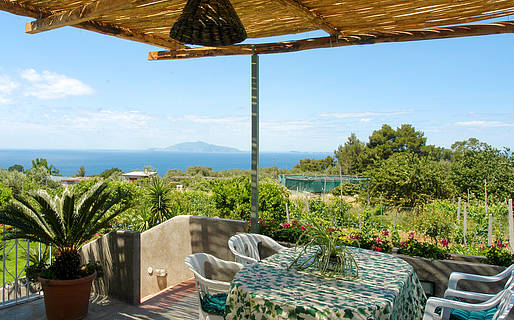 Welcome to the real Anacapri!
Three reasons why you'll love it here

A B&B in Anacapri, just 5 minutes from the historic center
The warm welcome offered by your hosts, the Ferraro family
A room with a view of the sea or a private solarium?
Villa Damecuta is just a five minute walk away from the historic center of Anacapri, through picturesque lanes lined with buildings constructed in the typical architectural style of Capri.
A charming, family-run bed & breakfast, Villa Damecuta offers guests that genuine hospitality for which the people of Anacapri are known and loved.
The bedrooms and apartments, all recently renovated, are equipped with every comfort. The members of the Ferraro Family are all proud connoisseurs of the island traditions and will be pleased to provide guests with invaluable insider information regarding Capri and the many places of interest located on the island, thus making their stay a truly memorable one.
Location
Bed & Breakfast Villa Damecuta is situated just five minutes from the center of Anacapri. The legendary Grotta Azzurra is a short bus ride or pleasant 20 minute walk away.
Villa Damecuta rates
| | Alla seasons |
| --- | --- |
| | Rate per person / night |
| Rooms | € 35,00 / € 55,00 |
| Apartment | € 35,00 / € 65,00 |
Rates are min/max, per person, per night.
Booking online
Send an email
Sorry,
this hotel is not available
for online booking.
The request will be sent by email to "Villa Damecuta"
Send your request to the hotel
The request will be sent by email to "Villa Damecuta"