Capri

Guide for independent travelers

A visit to Capri nourishes both the mind and the spirit. Beauty's power to both inspire and heal are well-known and on this tiny Italian island, just off the coast of Naples, beauty is abundant.

A leisurely stroll through the historic center of Capri, a trip by boat exploring the island's unique coastline, punctuated with hidden caves and secluded beaches, a tour of the ruins of Emperor Tiberius' imposing Villa Jovis, a journey by chairlift up to the summit of Mount Solaro or a walk along the lanes of Anacapri as far as the Migliera viewpoint: the island of Capri's incredibly varied and breathtaking town, sea and landscapes never fail to astound the visitor.
Tips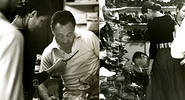 Local products
The iconic handmade sandals from Capri
Transport and Rental
Fly to Capri with HoverflySam helicopters.
Guided tours
Capri Time Tours offers original and exclusive cultural itineraries to help travelers discover the most...
Guided tours
Bespoke Capri is an agency which organizes exclusive tours and provides...
Who better than an islander to show you the secrets of Capri?
Capri Time Tours offers original and exclusive cultural itineraries to...
Visit, live and love the island of Capri
Discover Capri's history and culture with the Nesea Cultural Association