Capri

Places to visit

Capri: Imperial villas, medieval churches, elegant 19th century residences, magnificent coastal walks, flower-strewn mountain slopes and, of course, the shimmering blue Mediterranean sea.

Exotic and voluptuous, like the brightly colored flowers which refuse to be contained within the gardens of its elegant villas; tumbling over the walls and filling the little lanes of the island with great cascades of exquisitely scented bougainvillea and campanula: since ancient times, the island of Capri has been enticing travelers with its quite irrepressible beauty.

Although the natural beauty of the island far outshines that of even the most glamorous of its visitors, no trip to Capri can be considered complete without having first attended the people parade in the legendary Piazzetta. It is here, in this tiny square bordered by chic pavement cafes, that the world's beautiful people come to be seen, swathed in the designer clothes and jewelry purchased moments earlier in the exclusive boutiques lining the streets of the historic center.
Tips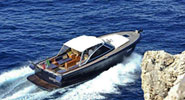 Excursions by sea
Diving, fishing, and nighttime excursions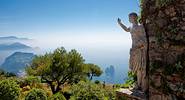 Travel agencies
Capri and surroundings tours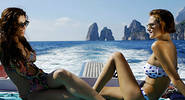 Excursions by sea
The professional sailors
Guided tours
Bespoke Capri is an agency which organizes exclusive tours and provides...
Who better than an islander to show you the secrets of Capri?
Capri Time Tours offers original and exclusive cultural itineraries to...
Visit, live and love the island of Capri
Discover Capri's history and culture with the Nesea Cultural Association