La Reginella

Capri

2 stars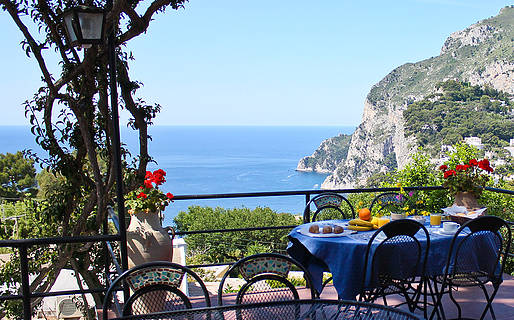 Capri art retreat
Three reasons why you'll love it here

Where the world's artists met, on the hill of Matermania
The magnificent terrace with view of Marina Piccola
In Capri, holidaying in a museum-house
The sea surrounding Capri, the Bay of Marina Piccola, Monte Solaro: walk out on to the terrace of Hotel La Reginella and experience the view which, in the 1960's, drew a steady stream of painters, poets and musicians to this charming little hotel, situated within meters of the Natural Arch and the panoramic Pizzolungo walk.
A home for art
That's what the art-loving violinist Paolo Falco and his pianist wife, Elisabeth Rudorff, wanted to create when they decided to open the doors of their island home to like-minded travelers, artists and intellectuals some 50 years ago.
Since then, little has changed: the villa is just the way it was (except for the addition of air conditioning and televisions!), the sun continues to shine on the panoramic terrace, and the hotel is still filled with beautiful works of art.
An art hotel in Capri: La Reginella's rooms are adorned with xylographs, ceramics, landscape paintings and portraits by artists the likes of Hans Paule, Walter Depas, Willy Kluck and Annie Cottreau

Authentic island charm
Forget the luxury hotels and million dollar yachts for which the island is now famous, at La Reginella you'll experience the simple pleasures of Capri: heartfelt hospitality, clean and comfortable rooms and views - to die for!
Breakfast with view of the sea
In the morning, the hotel's terrace serves as gorgeous outdoor breakfast room where to enjoy a delicious selection of pastries and coffee before heading off to the Piazzetta, the Natural Arch, or the sea.
If all you want to do is relax in the sun, the hotel's garden with solarium is the perfect place in which to do just that!
Location
Ten minutes is all it takes to reach Hotel La Reginella from the Piazzetta and the center of Capri The walk might be uphill, but the fabulous views of the sea waiting to be admired from the hotel's terraces make the climb more than worth the effort!
The hotel lies within meters of the Natural Arch', where the spectacular Pizzolungo coastal path, leading to the Tragara viewing point and the Faraglioni rocks, begins.
What travellers said about this hotel
Booking online
Send an email
This hotel is available for online booking!
Best available rates, updated in realtime.
Reservations managed directly by the hotel.
Book in just 2 minutes.
Possibility to cancel the reservation