Al Mulino
3 Star Hotels

Nature
Via La Fabbrica, 9

-

Anacapri
-
See map
Al Mulino
+39 081 8382084
+39 081 8373746 (Fax)
Official website:
Email:
Three reasons to book here:
The charm of a hidden corner of Capri's countryside
Breakfast al fresco in the garden with homemade cakes and freshly picked fruit
The authentic island hospitality of a local family to experience the best of Capri
Breathtaking views , genuine and authentic hospitality of the local people, wildlife and nightlife , crystal clear sea and nature walks , romantic corners : Capri offers a lot of unique experiences in just few kilometers
Package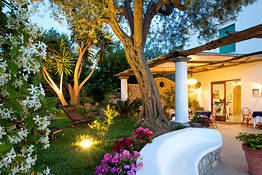 Do you love nature, simple and genuine life, would you like a relaxing stay in complete privacy, do you like walk on wonderful panoramic paths and enjoy the beauty and romanticism of sunset? Included in the offer: - Superior double room with its own private terrace and each modern facilities - Brea... (details)
€ 120
(per night per room)
Valid from 17 April 2017 to 31 May 2017
Package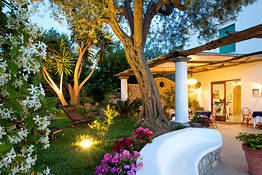 Enjoy magical sunset, savor delicious breakfast and live intimate moments in our relaxing park: live a romantic stay on Capri, the island of love . Included in the offer: - Superior double room with its own private terrace and each modern facilities - Breakfast with delicious homemade cakes and fre... (details)
€ 125
(per night per room)
Valid from 25 April 2017 to 27 April 2017
Coupons
We gift you Italy's most beautiful park
Book directly at least 3 nights Al Mulino:
we'll help you to enjoy the best of Capri island and...
to begin we will gift you 2 tickets to visit the fascinating Villa San Michele of Swedish doctor Axel Munthe
and its amazing garden, winner of the Best Park in Italy award.
Free
Valid from 17 April 2017 to 31 May 2017
(Terms and conditions)
Once an old farmhouse, Anacapri's Al Mulino has only recently been transformed in hotel. Part farm-stay, part country house, Al Mulino is the perfect place where to enjoy a peaceful holiday on the island of Capri. A pretty, white columned pergola leads to the entrance of the hotel. The hotel garden, filled with the scents and colours of jasmine and geraniums, provides a quite idyllic setting in which to enjoy the Italian sunshine.
Al Mulino's tastefully furnished bedrooms are equipped with every modern comfort including wi-fi internet connectivity. All rooms open out on to a terrace overlooking the garden.
A delicious breakfast of home made cakes and seasonal fruits is served al fresco on Al Mulino's flower-decked terrace. A free internet point is located in the reception of the hotel. A shuttle service from and to the port of Capri is available, on request. Hotel staff will be pleased to provide information concerning boat hire, guided tours, walking routes and excursions.
Outdoor facilities

Garden
Park
Children's play area
Rooms

Rooms for families
Rooms for the disabled
Internet connection
Free Wi-fi
Air Conditioning
Room service
Minibar
Safety deposit box
Kettle
TV
Satellite TV
Hair dryer
Kitchenette
Bathroom with bathtub
Room with private terrace
Wellness

Massages
Food and drink

Cultivation of organic produce
Own oil production
Events

Weddings
Various

Reception 24h
Pets allowed
Car park
Laundry
Shuttle service (airport / city center / beach)
Baby sitter
Al Mulino: TripAdvisor reviews®
Back to the top

Based on 205 recensioni »
Wonderful stay in Capri!
We had a wonderful stay at Al Mulino in Capri. It started off with Antonietta picking us up from the ferry terminal and driving us to the hotel at no extra cost. The hotel itself is situated in a... more »
Sembrava di essere a casa...
Con mia moglie siamo rimasti una settimana ed è stata un'ottima esperienza: dal momento in cui siamo stati accolti a Marina Grande fino al termine della vacanza, quando abbiamo salutato la Signora more »
Bellezza, pace, e gentilezza
L'hotel 'il Mulino' è un posto meraviglioso, immerso nella natura dell'isola, curato e affascinante. Ma non solo: è di quei luoghi dove trovi quell'ospitalità speciale e autentica che sta lentamente more »
Hotel Al Mulino is situated just a ten minute walk from the center of Anacapri. You can reach the hotel by bus, taxi, scooter or even helicopter (the island's heliport is just meters away).
Hotel Al Mulino is located close to the Damecuta Archaeological Park, on the road which links the center of Anacapri with the legendary Grotta Azzurra, one of Capri's most popular tourist attractions.
The hotel provides a shuttle bus service to and from the port of Marina Grande.
61