Diva Suites

Capri

Guest Houses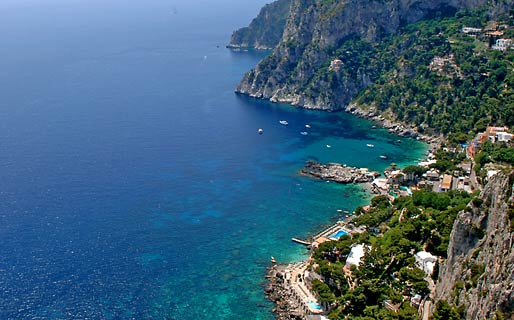 Your suite, in the shadow of the Faraglioni
Three reasons why you'll love it here

The sea of Capri on your doorstep
The irresistible island cuisine at La Canzone del Mare
The view of the Faraglioni, from the swimming pool
There are many places in which to experience the timeless beauty of Capri but, for those in the know, one of the very best is Diva Suites, the sea edge guest house belonging to the island's La Canzone del Mare bathing establishment, in the Bay of Marina Piccola.
Brigitte Bardot, Sophia Loren, Liz Taylor, Gracie Fields, Jacqueline Kennedy: each of the guest house's suites has been named after one of the stars of the 1960's International Jet Set. Rooms are decorated in typical Mediterranean fashion, with handcrafted wooden furniture and brightly colored majolica and equipped with every modern comfort. From the windows of their suite, guests are treated to a spectacular view of the sea, the Faraglioni and the Siren's rock.
Capri's Diva Suites are synonymous with elegance and luxury but also lazy days relaxing by the sea on the beach of Marina Piccola or on the terraces of the Canzone del Mare, one of the island of Capri's most famous bathing establishments. Those eager to experience the local cuisine will enjoy dining at the Canzone del Mare's restaurant, savoring the delicious fish dishes and a faultless selection of regional wines.
Location
The Diva Suites are part of Capri's Canzone del Mare Bathing establishment, an exclusive resort situated in the beautiful bay of Marina Piccola, overlooking the Faraglioni rocks.
The center of Capri is just a ten minute bus or taxi ride away. Those wishing to walk can choose to take either the spectacular Via Krupp or the old Via Mulo road.
What travellers said about this hotel
Diva Suites services
Outdoor facilities
Swimming pool
Private beach
Rooms
Internet connection
Free Wi-fi
Air Conditioning
Room service
Minibar
Safety deposit box
Satellite TV
Hair dryer
Bathroom with bathtub
Room with private terrace
Food and drink
Events
Various
Booking online
Send an email
This hotel is available for online booking!
Best available rates, updated in realtime.
Reservations managed directly by the hotel.
Book in just 2 minutes.
Possibility to cancel the reservation