Buca di Bacco
Restaurant €€€

Taste
Via Longano, 35

-

Capri
-
See map
Buca di Bacco
+39 081 8370723
Email:
Buca di Bacco
The famous pizza "sfilatino"
Pretend to be in the first decades of 20th century
Reserve the table next to the panoramic window
Closed: Monday
Annual closure: from 2 January 2018 to 24 March 2018
Coupons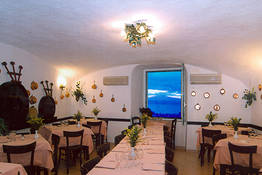 A glass of Limoncello
To round off a nice lunch or a good dinner of Caprese cuisine, the ideal is always a glass of limoncello, one of those home-made with the best lemons of Capri. Eat with us to take advantage the homage!
Free
Valid from 1 April 2017 to 31 October 2017
(Terms and conditions)
A small and pleasant restaurant situated on the ruins of the ancient "Greek walls", Buca di Bacco lies right in the heart of the historic center of Capri.
The vaults that cover the rooms together with the interior design made of dark wood provide a warm atmosphere with character.
The menu features traditional dishes, including seafood specialities and '"Neapolitan style pizza"' cooked in a traditional wood burning oven. Don't forget to order the sfilatino: the most famous pizza of the restaurant.
An excellent selection of wines guarantees the perfect accomapniment to every meal.
Opening times
Lunch: 12.30 pm - 3.00 pm
Dinner: 7.00 pm - 12.00 am

Closure day: Monday
Close from November to Easter

Free Wifi

Buca di Bacco: TripAdvisor reviews®
Back to the top

Based on 549 recensioni »
pizza gustosa
Posto piccolo e accogliente. Personale gentile e disponibile, ci hanno realizzato una pizza bigusto solo x aver chiesto la possibilità io e mio marito di condividere due scelte diverse...la pizza è more »
Pranzo una domenica di marzo, unico ristorante aperto
Siamo state a Capri (io e 3 amiche) a marzo, unica domenica. Tutto chiuso. Avevamo voglia di mangiare ad un ristorante e abbiamo trovato questo nelle vicinanze. Posto intimo e accogliente, un angolo more »
Cute Place
This restaurant is hidden within the narrow winding roads of Capri. It was suggested to us by our hotel and it was certainly a good proposal. Good food and good service. more »
From the Piazzetta walk through the passageway to Via Longano and within just a few steps, you'll find Buca di Bacco.
176