It is a long itinerary with some inaccessible stretches but its extraordinary beauty is worth the effort. The blockhouses and the set of paths and streets are located along the western coast of the island, between the Blue Grotto and the Punta Carena Lighthouse. The three blockhouses of Orrico, Campetiello (also called di Mesola) and Pino were built by the English in 1806 and successively enlarged by the French after they took Capri at Orrico, on October 4th 1808.
Then there is an additional small blockhouse called "il cannone" (the cannon) facing the splendid Tombosiello creek. The blockhouses constituted, together with the Damecuta and la Guardia towers, a defensive system for some of the areas in Anacapri, whereas Capri was protected with continuous walls. Considerably interesting are the narrow streets and paths crossing the thick Mediterranean vegetation and skirting spectacular creeks that connect the different blockhouses.
An ideal route for nature lovers, and those tourists who mean to "discover" Anacapri, and go beyond the "ritual" visits. Thanks to this itinerary, in fact, you can discover a partly unknown, wild side of the territory, paths walked only by a few people (mostly hunters and fisherman).
How to get to the Sentiero dei Fortini

Bus Anacapri - Grotta Azzurra ("Orrico" bus-stop).
Bus Anacapri - Faro di Punta Carena ("Pino" bus-stop).
Pino Fort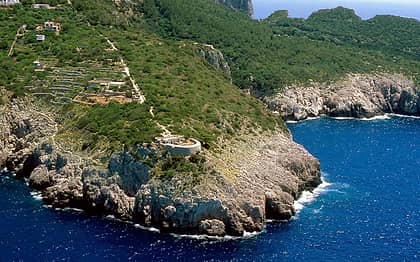 Situated in the Anacapri district, Pino is one of the most beautiful, isolated and rugged spots on the western coast of the island, separating Cala di Mezzo from Cala Tombosiello or Cala dei Serpenti. Here too, a small fort was built on what is believed to have been an existing Medieval fortification, and like all the other forts on the island, it features a thick dry stone wall overlooking the sea, designed to protect the military quarters at the rear from enemy attack. An underground cistern collected rainwater.
Mesola Fort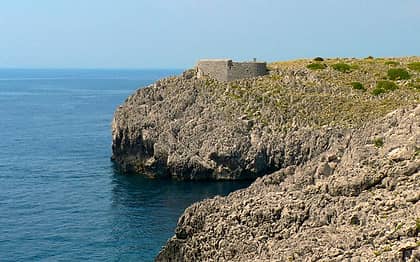 This is one of Anacapri's main forts and forms part of the island's western defence system. Standing between Pino Fort and Orrico Fort, it was built in the 1800s by the English and later stormed by the French in 1808. Tufa and lava stones like those used by the Romans were found in its walls.
Orrico Fort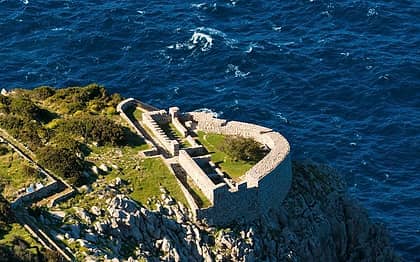 According to some scholars, the name of this fort dates back to an Amalfi family, while for others it derives from the many medicinal plants that grew here. Still others believe its name derives from the Greek word 'orica'. Indeed, legend has it that the island's first Greek inhabitants, the "Teleboi", actually disembarked here from Epirus. There is in fact a convenient landing stage near the fort and it is from here that, first the Aragonese and then the English and French, attacked and conquered the island.